This is in many peoples top 10 albums and for good reason. Classic rock at its best. Stairway To Heaven, Black Dog, Going To California and When The Levee Breaks are my favourites. But once this album is on, everything else stops and it plays from start to finish.
The Beatles – Abbey Road

I absolutely love all The Beatles albums and played this one to death. I love the way the tracks all merge on side 2, but just some great tunes on here. Was lucky enough to get to Abbey Road studios with a friend of mine some years ago. I saw the original hanging on the wall along with the original Revolver artwork. It sent a shiver down my spine. Iconic image and timeless music.
The Sensational Alex Harvey Band – SAHB Stories

I first saw The Sensational Alex Harvey Band on The Old Grey Whistle Test doing their rendition of Delilah. It started with a silhouetted shot of Alex sitting and then panned to the rest of the band standing also silhouetted. When it got into the song all players emerged from the darkness, and Zal Cleminson reveals in his guise as a clown. This freaked me out somewhat in my little house in Dublin. I realised I had Coulrophobia – a fear of clowns. However, I was intrigued and wanted to know more about these guys. I mentioned it to a friend some time after who was a bass played in a band I was in at the time. He presented me with SAHB Stories, and it immediately struck a chord with me. For me it has everything. Rock guitar riffs, jazzy tunes, atmosphere taking you from sultry Sirocco to the bluesy swamps of Louisiana. The standout track for me is the Jerry Reed cover "Amos Moses". But there are others. "Boston Tea Party" and the atmospheric "Sirocco". Sensational album that will always be in my collection.
Rush – Rush Through Time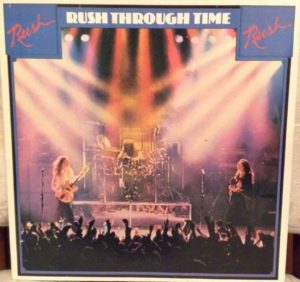 The last but by no means the least. A compilation of early Rush songs. This was my first exposure to the majesty of the Ambassadors of Canadian Rock. Again I heard it for the first time in a friends house and was blown away by the power and off-beat antics of Overture / Temples Of Syrinx. And yes you guessed it – went out and bought this along with "2112" and never looked back. I became a Rush fan from there to now…
I really enjoyed sorting through the annals of my music history to try to come up with 10 albums. It was difficult as there are a lot that could have been included here. Schooldays by Stanley Clarke, Innervisions by Stevie Wonder, A Trick of The Tail by Genesis, Back On The Streets by Gary Moore, Machine Head by Deep Purple, Casino by Al Di Meola, Rumours by Fleetwood Mac, Dark Side of The Moon by Pink Floyd, The Bends by Radiohead, Passion And Warfare by Steve Vai, Aja and Can't Buy A Thrill by Steely Dan and most of the Queen catalogue most notably A Night At The Opera, are just a few that come to mind.
These are the artists who have inspired me, and I hope I do them all justice. And I am sure there are many more that I have forgotten. I hope you enjoyed my journey…and there is another one…through my collection of albums. Most enjoyable. If you enjoyed this article then please like, share and comment below.