My Top 10 Albums. Everybody has a top 10 and probably more. I was nominated on Facebook to post the 10 albums that made the biggest impact in my life. Here they are as posted, including a short blurb as to why they have influenced me. Click here to listen to how these artists influenced my new album "Here We Sit". I hope you enjoy:
Thin Lizzy – Live and Dangerous
I bought my first copy about 1979 or 80 and I still remember the first time I played it. Back then I was a guitar novice and open to any influence going. However, when I heard this album for the first time, it was a revelation to me. The power coming from my speakers was spine tingling. Philo's voice was immense. Robertson and Gorham's twin guitars were exciting and "Brian Downey on drums" was a driving force to be reckoned with. Right from the first track Jailbreak, there is no hanging about. For me there is not one bad track here. I can honestly say this album did not leave my turntable for a long time… And if it did, it was always within arm's-length.
I have owned this album on cassette, CD and DVD. The original is battered and bruised, but still does the business. There's lots of discussion on exactly how live the album is, as there are studio overdubs. Not a concern for me as Lizzy are not the only band to do this on live albums and will not be the last. It still makes me tingle today when I play it. I would say that the Gorham/Robertson line up is a huge influence in my guitar playing style and for that I will always be truly grateful.
I cannot finish talking about Lizzy without mentioning the man – Philip Lynott. For he has no equal. His stature on stage, his presence, charisma, charm, passion, songs and he threw some great shapes too. He was the best friend I never had, and I was devastated when he died. Needless to say that I have all the Lizzy albums in my collection. His legacy will live on, and his songs will stand the test of time for sure.
Led Zeppelin – Led Zeppelin 2
Zeppelin 1 was a fantastic album. However, Plant, Page, Bonham and JPJ took it to the next level with their second outing. Right from the very first note, Page's playing is mesmerising. Plants voice and charisma was what any band would chop their nuts off for. Bonham was and is still one of the most recognisable drummers and JPJ is the steadying influence keeping it all rocking and pumping. Again, I sat with this one and learned it note for note, as I did with 1. But what also attracted me was the sounds coming out of the speakers. From the middle anarchy of "Whole Lotta Love" to the sound of Plant's voice on "What is and What Should Never Be" to the drum sound on "Moby Dick". This album made me think about sounds, production, feeling and how the album sounded in relation to others.
AC/DC – If You Want Blood

My first AC/DC album. Still got it on vinyl today. Unfortunately sounds like sausages and eggs in a frying pan but still love it. I have got to say that my preference was for Bon Scott on vocals but that is not to say I didn't enjoy Brian as well. Was lucky enough to see these guys with Brian live twice and was not disappointed on either occasion. Simply just great rock n roll and would love to see them again. Unfortunately that is probably not going to happen.
Pink Floyd – The Wall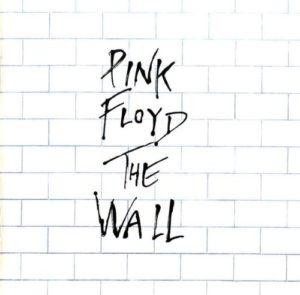 Dark Side Of the Moon was my introduction to Pink Floyd, and if I am honest this was a hard one to decide because I love both albums equally. However I think the production and the story within The Wall was the thing that properly inspired me in the end. Not to say that DSOTM is not inspiring….it is.
I first heard The Wall at a mates house and was completely blown away. The production is crystal clear but not only that. The instrumentation, the lyrics, the story and the characters are fascinating. It flows effortlessly from rock to acoustic to symphonic and for me it is awesome. How the songs merged and the segues between was not something I had paid much attention to before this. Yes Floyd had done this before, but this time there was a story, a meaning to each one that pushed the story along. But the way that the album introduced itself was jaw dropping. The way that the guitar pummels that quiet little introduction is superb. And from there Pink had pulled me into his world by the scruff of the neck. I was going nowhere until I had heard this album in its entirety.
We sat in my mates all afternoon and soaked in as much as we could. I bought it a couple of days later and sat with headphones on listening to the way it flowed from one musical style to another and from speaker to speaker, from teenage angst to growing up, rebellion to near suicidal depression, drug highs to personal lows, the loneliness and self-isolation, the crying for help and in the end the reality of life… This is one of those albums that will never age.
The Eagles – Hotel California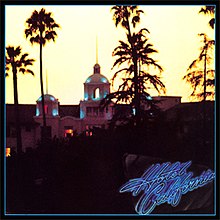 Notable for the obvious track which was voted the best solo of all time by Guitarist magazine, but also because it was the first album with Joe Walsh as a new member of the band. Fantastic album with memorable tunes and not just the title track. As with Live and Dangerous, lots of twin guitar solos which as you can tell by now – floats my boat.
Thin Lizzy – Black Rose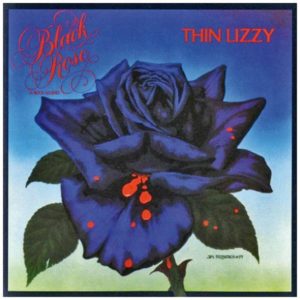 I remember the day I bought this album from Golden Discs in Dun Laoghaire. I cycled down to the store in the pouring rain…could not wait for it to stop. When I got the album I asked them to double bag it so it wouldn't get wet on the way home. Unfortunately, the rain and excitement got the better of me on my way back home. My bike slipped and I fell and impaled my left hand on a spiked garden railing – still got the scar. I was more worried about damaging the album than anything else so I suppose I can say this album scarred me for life.
In my opinion the best studio album by Thin Lizzy. Although I also feel that Bad Reputation runs a close second. The thing that separates them for me is the influence of Gary Moore. Super playing with just the right amount of aggression. Again I could not tell you how many hours I have spent learning the solo from the title track, but many hours well spent in the company of my best friends. I also feel that this album brought the best out of Scott Gorham, integral to the Lizzy sound as always. His playing on this album feels different – more polished and stylish if that is possible from "The Next President of the United States of America"….. It almost feels like Gary brought the best out of Scott but that is just my opinion. Most poignant of all is the track "Got To Give It up" for obvious reasons. Also love the guitar riff in the middle of "Get Out Of Here". Still play this today as I do with all Lizzy's albums. It still feels and sounds as fresh as when I first bought it.
Led Zeppelin – Led Zeppelin 4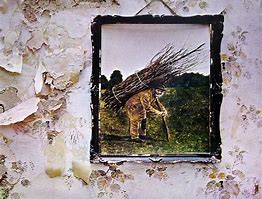 This is in many peoples top 10 albums and for good reason. Classic rock at its best. Stairway To Heaven, Black Dog, Going To California and When The Levee Breaks are my favourites. But once this album is on, everything else stops and it plays from start to finish.
The Beatles – Abbey Road

I absolutely love all The Beatles albums and played this one to death. I love the way the tracks all merge on side 2, but just some great tunes on here. Was lucky enough to get to Abbey Road studios with a friend of mine some years ago. I saw the original hanging on the wall along with the original Revolver artwork. It sent a shiver down my spine. Iconic image and timeless music.
The Sensational Alex Harvey Band – SAHB Stories

I first saw The Sensational Alex Harvey Band on The Old Grey Whistle Test doing their rendition of Delilah. It started with a silhouetted shot of Alex sitting and then panned to the rest of the band standing also silhouetted. When it got into the song all players emerged from the darkness, and Zal Cleminson reveals in his guise as a clown. This freaked me out somewhat in my little house in Dublin. I realised I had Coulrophobia – a fear of clowns. However, I was intrigued and wanted to know more about these guys. I mentioned it to a friend some time after who was a bass played in a band I was in at the time. He presented me with SAHB Stories, and it immediately struck a chord with me. For me it has everything. Rock guitar riffs, jazzy tunes, atmosphere taking you from sultry Sirocco to the bluesy swamps of Louisiana. The standout track for me is the Jerry Reed cover "Amos Moses". But there are others. "Boston Tea Party" and the atmospheric "Sirocco". Sensational album that will always be in my collection.
Rush – Rush Through Time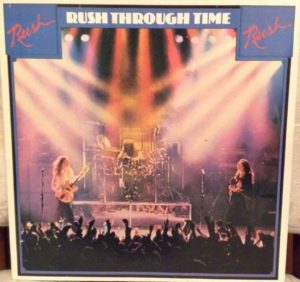 The last but by no means the least. A compilation of early Rush songs. This was my first exposure to the majesty of the Ambassadors of Canadian Rock. Again I heard it for the first time in a friends house and was blown away by the power and off-beat antics of Overture / Temples Of Syrinx. And yes you guessed it – went out and bought this along with "2112" and never looked back. I became a Rush fan from there to now…
I really enjoyed sorting through the annals of my music history to try to come up with 10 albums. It was difficult as there are a lot that could have been included here. Schooldays by Stanley Clarke, Innervisions by Stevie Wonder, A Trick of The Tail by Genesis, Back On The Streets by Gary Moore, Machine Head by Deep Purple, Casino by Al Di Meola, Rumours by Fleetwood Mac, Dark Side of The Moon by Pink Floyd, The Bends by Radiohead, Passion And Warfare by Steve Vai, Aja and Can't Buy A Thrill by Steely Dan and most of the Queen catalogue most notably A Night At The Opera, are just a few that come to mind.
These are the artists who have inspired me, and I hope I do them all justice. And I am sure there are many more that I have forgotten. I hope you enjoyed my journey…and there is another one…through my collection of albums. Most enjoyable. If you enjoyed this article then please like, share and comment below.
239 Comments