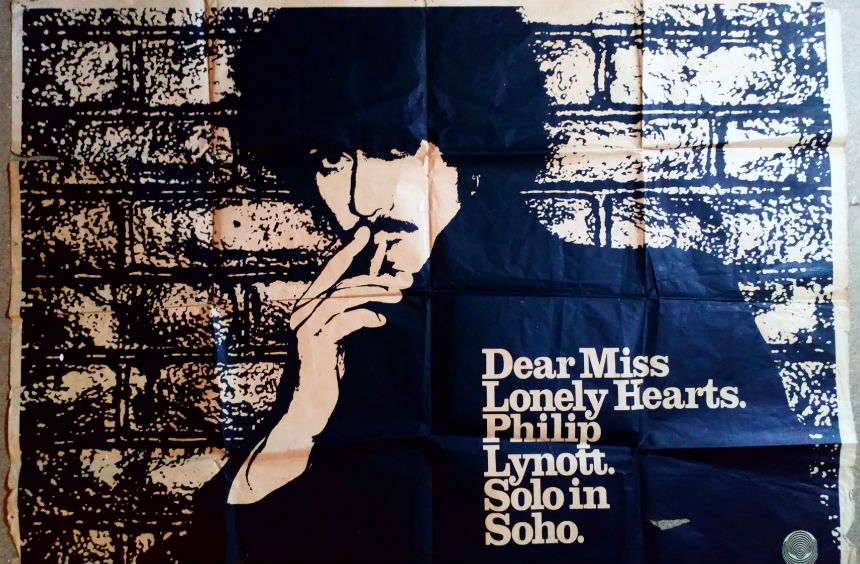 .
Saturday 04 January 1986 – Philip Lynott the bass player, writer and front man for Thin Lizzy passed away. This is a day I shall never forget. I recently became a member of the face book group Thin Lizzy Fan Club Worldwide and found a German documentary on the group which not only caught my attention but took me back to 1986. The memories of this day were so lucid that it felt like yesterday.
The 1980s…
As a kid strutting the streets of Dublin, Philip Lynott was my hero and inspiration. I was quite the "socialite" around Dublin in those days due to a big circle of friends, my music network, and for those of you who do not know me – I am a very social guy. I remember I had a huge week "socially" that week with gigging and rehearsing, the usual Christmas and New Year revelry and the attached social part of those pursuits. So I decided that I was going to have a relaxing Saturday night in front of the TV – highly unusual for me in those days.
I remember feeling a bit "boring", especially after speaking to my mate, advising him of my "no-show" that Saturday night. He was quite taken aback by my opt-out. But I remember thinking that I needed to take a break and recharge the batteries, at least for one night. I was living at home with my parents and they thought I was ill – that's how unusual it was. I remember walking around the kitchen at home, doing nothing or making tea (which was my next best drink after "Socialising") and listening to the news on RTE TV. We did not have TV that you could re-play so when the news was on, we paid attention as you only got one chance to hear it. What I heard was something that I never thought I would hear.
"Philip Lynott, the lead singer with the group Thin Lizzy has died".
I remember asking my parents if I heard it right? I could not believe it. This surely must be a mistake as Philip Lynott cannot die. I didn't even know he was ill. But it was true. He had been on TV a few weeks before saying how he had kicked his bad habits and telling people not to partake in such pursuits. We now know that he had succumbed to his excesses unfortunately.
"It Seemed Like Sadness Had Surrounded The Town…"
The feeling of numbness and loss was overpowering. My hero had just passed away. My Saturday night sojourn ended there and then. I was numb. I didn't know what to do or how to feel. But I was not going to sit in my house. If Philo can go just like that, then life is too short to stop anything. I hooked up with my mate who was also dumbfounded when I told him. We had a few beers on a very strange night where neither of us really knew how to feel. After all, I had never met Mr. Lynott. The fact is that he had been such a big part of my life. I knew many people around him but never got to meet the man himself. It felt like I had lost a very dear friend.
The Sunday after Phil passed, I met with Robbie Brennan who was a friend. Robbie was the drummer in Phil's band Grand Slam. He was playing with his other band Auto da Fe who Phil was producing at the same time. Robbie was sitting alone when we got to the venue. I felt uneasy approaching him. Normally we would greet each other in the way friends would and have a laugh. But tonight was different. I sat beside him. When I asked what was going on, he said all was cool. I asked him about Phil and he just looked down to the ground and shrugged his shoulders. He was just about to go on stage, so I patted him on the shoulder and walked away. It was a very professional performance, but flat for obvious reasons.
When The Boy was in Town
Some time before Phil died, I went to the Top Hat in Dun Laoghaire where they recorded the Irish version of Top of The Pops. It was 2 days before Lizzy played the RDS in Dublin. I was standing in the crowd when I noticed Phil 50 meters away at the private bar. I told my mate that I was going to go and say hello. The consensus was that I would never get near him, but that was never going to stop me. Phil saw me coming as I made my way through the crowd. I was sure that at last I was going to shake hands with the man, as that cheeky Philo grin grew on his face. Unfortunately, 2 bouncers lifted me from the ground and redirected me away. I shouted to Phil that I would see him at the RDS and he winked, thumbs up and acknowledged my existence. That was the closest I got to Phil. Funny part was that the 2 bouncers were so apologetic as they were friends of mine. But hey, they had a job to do.
A few nights later at the gig (the Chinatown tour with Snowy White), I was on my mates' shoulders doing what you do at a Lizzy gig when I realised that Phil had got me in his mirrored bass. Or more precisely, "Got me in his spotlight". He was grinning with thumb up again. I felt like he was personally welcoming me to his show. I can't say that he remembered me but that is how I like to remember it.
You Will Always Hear The King call
The influence that Philip Lynott and Thin Lizzy have on my life is huge. I learned to play guitar to "Live and Dangerous". My bedroom was plastered with Lizzy paraphernalia. I climbed walls to rescue posters – see picture above from my studio. I have a scar on my left hand from rushing home to play Black Rose which I had just bought. It had been raining that day and I was on my bicycle. In my haste to get home I took a corner too fast and my wheels slipped on the wet surface. I ended up impaled on spiked railings embedded into my hand. Yes – I was – am – a Lizzy fanatic. And my hero is Philip Lynott.
I met Brian Downey for a beer in Dun Laoghaire. We hardly spoke about Phil. Not easy for Brian I assumed, and so in turn I felt uneasy too. After several too many beverages, he came back to my house for one more for the road. He saw the bedroom walls plastered with Lizzy posters. He did comment… You can imagine… We played guitar for a while which was a thrill in itself. Brian is a very underrated drummer. It is his beat that I dance to when I listen to Dancing in The Moonlight or Its Only Money and many others. I have bumped into Brian again on my travels and I have got to say he is one of the nicest people you will meet.
But Philo was my hero. After watching the documentary, I realise he was also a hero to many others. It is over 30 years ago since Philo passed. He will always be my hero and inspiration to continue making music. The best friend I never had…
Still missing you Philo…..
14 Comments