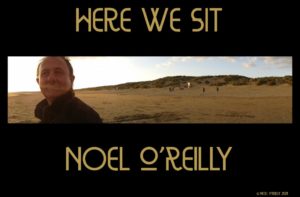 Here We Sit is the first independent studio album release, now available on CD or download. As Music Insider Global said: "guitar work is catchy and electrifying… vocals are powerful, raspy and unforgettable" "It's absolutely the ray of hope we needed in what has proven to be a difficult year so far.". Click the FIND OUT MORE button for all purchasing options. You can also listen to the previews for each track here too.

---
Havin' A Moment single download
An instrumental inspired by my wife. When I first met her, she suffered with anxiety which was something I did not understand at the time. Sometimes I thought I was the reason for her discomfort. When I would ask her, she would tell me that she was having a moment and she would elaborate more as and when she was ready. The idea was already in my head and it felt like a nice piece of music to accompany her moment of solitude. I hope you like it too. Click the ORDER NOW button and download. Photo by Helena Cook on Unsplash

---
One Deep Breath single download
The second download release from Noel O'Reilly. When I was getting everything together for the website and releases, I was very nervous and excited. To the point that I was stopping myself from completing the project. So I decided I had to sit me down and give me a good talking to. And there's no better way than to sing it up. I told myself to stop being silly and get a move on. Once everything was in place it just needed me to take One Deep Breath and jump right in and release it. This is me giving myself a kick in the backside. I hope it worked. Only you can tell me that… Click the ORDER NOW button to download and hear more. Photo by Mohammed Kuraish on Unsplash

---
Here We Sit single download
The first download release from Noel O'Reilly. A cry for help for the planet we live on. There is no doubt that we are having an effect on our planet's behaviour. We were told that this was going to happen. But are we doing anything about it? Not enough in my opinion. I hope you enjoy the music. More importantly, I wish governments around the world would take this issue more seriously. Click the ORDER NOW button and download.

By continuing to use the site, you agree to the use of cookies. more information
The cookie settings on this website are set to "allow cookies" to give you the best browsing experience possible. If you continue to use this website without changing your cookie settings or you click "Accept" below then you are consenting to this.