All about Noel O'Reilly and his music
In The Beginning…
Music has always been an influence for Noel. He was fascinated with the sounds and feelings that music inspired from an early age. Noel received his first guitar as a Christmas present from his parents aged 7. A small acoustic, that over the years was bashed into oblivion. Between his futile attempts at making this thing sing, he would listen with his Auntie to music on her cabinet system which was beautifully bass laden. His Father's record collection was also influential:
"I would pretend to be asleep, and this was when my Dad would play his records. We lived in a bedsit in Dun Laoghaire. When he thought I was asleep he would put his music on and dance around the room. He liked Lonnie Donegan, Bill Haley, Elvis Presley, Fats Domino and The Dubliners to name a few".
Noel's Grandfather was a musician. He played in an orchestra and Noel spent many a Sunday afternoon listening and jamming with him. His ability to play almost any instrument fascinated Noel:
"It seemed like he could pick up any instrument and just crack a tune out on it. I have seen him play violin, accordion, saxophone, flute and tin whistle. He tried to teach me how to read music, but I could never get the concept. For me it was all about the playing".
A few years later, Noel commenced his musical education. His school held guitar lessons after class, so he went with a friend. The guitar riff in The Beatles "Day Tripper" was his first attempt at lead guitar. His first public performance was at age 12 in a school hall in Dublin with some friends. The fact that he was terrified and didn't get to play Day Tripper are his only memories of this day.
Out and about…
Noel started playing live with another friend on acoustic. They played Beatles, Stones and Dylan covers. They rehearsed in his friend's kitchen and played sporadically around Dun Laoghaire. But Noel's appetite to learn was huge, and this was not enough. He started to audition for other bands and spent the next few years gigging around Ireland. His influences grew to include guitar bands like Thin Lizzy, Pink Floyd, Lynyrd Skynyrd and more. But for Noel, there was always the next thing to move onto.
In 1986 he relocated to London. The first few years were hard, and he continued to play live shows with friends from Dublin, but this was still not enough. He auditioned for other bands and started treading the boards of the live circuit in London. This continued for several years including some appearances in the Marquee which was always a personal ambition, and tours around the UK and Ireland. His reputation was growing:
"Noel…under-rated guitarist…his distinct style is a pleasure to hear (even in sound checks)". Dave Shack: ex Metal Forces Editor and Sony BMG
But again, Noel wanted more and grew frustrated with the business side of music. He was working during the day and playing at night. This is nothing new for any musician- even today. But Noel began to get frustrated with the whole scene and wanted more. The day job and more importantly money became an issue. In the end, he fell out of love with the whole scene and his life took a different road. He became a family man, and priorities completely changed. He had a family to look after, and music was not going to allow him to do that financially. The result was that he stopped playing guitar for several years and concentrated on family life.
The Re-Awakening
The next few years were spent in the corporate world. Noel had 2 jobs and was working all the overtime he could to make ends meet. But it never felt right. It was not what he wanted to do. The music bug was still buzzing in his head. He would pick up his guitar every so often, but not with the same mind set. The corporate grind had taken over. But it was not all wasted time. At work, he got involved with computers and discovered that you can record music with them. This intrigued him. He liked the idea and sound of mixing guitar with electronica, and started listening to bands like Radiohead, Muse and Dream Theatre. This sparked a new way of thinking for Noel. He started to think musically again and decided to set up his home studio.
His love for music did not take long to return. He discovered a whole new world of song writing and composing using other instruments and sounds. It became obvious to him that he missed the musical creativity. He wanted to use his new found knowledge and skills to expand on this, so he enrolled on some online music composition and mixing courses to help reignite the creative juices. Yes, he was off and running again.
The Liberation…
The next few years were spent writing music with the aim of having a catalogue of music to make available to media companies. His interest in studio engineering, producing and music mastering increased alongside the writing. He found it liberating to think it possible to get music out as an online independent musician. This was the new goal. He started writing for film in 2006 after graduating from Music For The Media. Since then he has collaborated with friends, media companies and local film makers.
"Musically an original, quirky, sound that establishes a viable style… Nice production and writing" Richard Attree: BBC's Radiophonic Workshop. Double Sony award winner for BBC Radio One. MFTM Tutor.
"I really can't say thank you enough for all that you did for the film. To not even meet you and you produce something that is so perfect, which really strengthened the film no end." Matt Loudon – Magic Dust Productions – Bafta Nominated Director – My Darling Wife
"How did you do that" – John Abrahams from Straight Curve Films.
It may have taken many years, but Noel had found what he enjoyed doing most. Creating musical composition from start to finish.
No connection? Song rejection…
His attitude changed towards his music. He would spend as much time as he could playing and sitting at his computer creating. He loved every minute of it. It completely changed his outlook on life. Every conversation he had was an idea for a song. Problems were opportunities to learn something new. Ideas would come at the most in-opportune moments, but he managed to find a way to ensure that they were not forgotten. Lyrics were written on the back of cigarette packets (I don't smoke anymore – and yes I still have them). Musical ideas were recorded on his phone and then taken to the studio. But it was the development of these simple ideas into full blown productions that fascinated him.
This gave him a new idea. He changed the way he approached the writing process and he still writes this way today. He would record a basic acoustic version of each song and forget about it. A few days later, he would come back to it. If he connects with what he hears, he takes it to the studio for embellishment. No connection? Song rejection…
The first release
During the recording of the album "Here We Sit", he continued to employ this way of writing. And in 2020, he made 3 of these acoustic versions available to download FOR FREE, and is still available at the top of this page:
"I felt this was a good way for people to have an introduction to my music without costing them any money. It is also a good way for people to compare the finished track on the album to where it actually came from".
"Reflections" was his first venture into releasing music and is available by registering on the form at the top of this page. These song versions are very intimate and personal. He realises that his experiences are not unique, but hopes you can relate to some if not all the subjects he writes about. What you will hear on this album is the raw version recorded at the beginning of the writing process. Just Noel and the acoustic in front of a microphone with little editing or effects. Most interesting is listening to these versions then comparing them to the studio versions.
And So Here We Sit…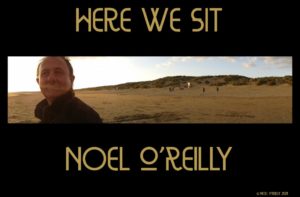 On February 20th 2021, Noel released his first independent studio album entitled "Here We Sit". This was something he had worked towards for over 2 years. For Noel, the whole project was a huge learning curve.
"I cannot even tell you how many times I re-recorded, re-mixed and re-mastered until I was happy with the sounds. I suppose too many is the answer".
But he enjoyed it all, every step of the way. Yes he experienced frustrations along the way, but as he says:
"The end result is one that I am very happy with and proud that I actually achieved what I had wanted to do since I was a teenager".
"Here We Sit" is a 10 track album of songs and instrumentals. Some of them were started some years ago, but all completed over 2 years, most of which was spent in Covid lock down. So have a listen and download or buy the CD here. You can also watch some of his videos on YouTube here.
"If you had told me 3 years ago that I was going to be able to complete this album, release it and have some videos to accompany the tracks I probably would have told you that you were mad. I am really pleased to have achieved this, and am now looking forward to the next project."
Get your copy of "Here We Sit" by clicking here, or on the album artwork.
Not stopping there
But making music available for people to listen to was only part of the journey. Enabling people to find it is a whole different skill. So, he embarked on the next part of his education – music marketing and promotions. There is so much music available now that it is difficult to be able to get heard. The old saying "if you build it they will come" is just not true. But how do you get the word out? With a lot of difficulty is the answer to that one. Especially if this is not something you have done before, and this is a whole different world to where Noel has come from.
But again, a problem is an opportunity to learn. But where to start? A major aspect of music promotion is having a video to accompany the song. So in the true spirit of independence, he started to learn about video editing. Why not? You can see how Noel has done with his first few videos here at his YouTube channel. And the journey is still going on today.
The streaming conundrum…
From August 05 2022, the album will be available to stream on all platforms. This again is another milestone for Noel. He has never been a big fan of streaming music:
"There is nothing like having the record or CD in your hand and reading the liner notes and all that goes with it. But I am sure there were people who were not fans of the CD when it first arrived. But I cannot argue that streaming is by far the best way for people to discover new music today".
Since its release last year, the album has performed well. But Noel would like more people to know about it. To do this he has decided to go with CD Baby, who will distribute the album to all the streaming services. So the next step in the development has begun.